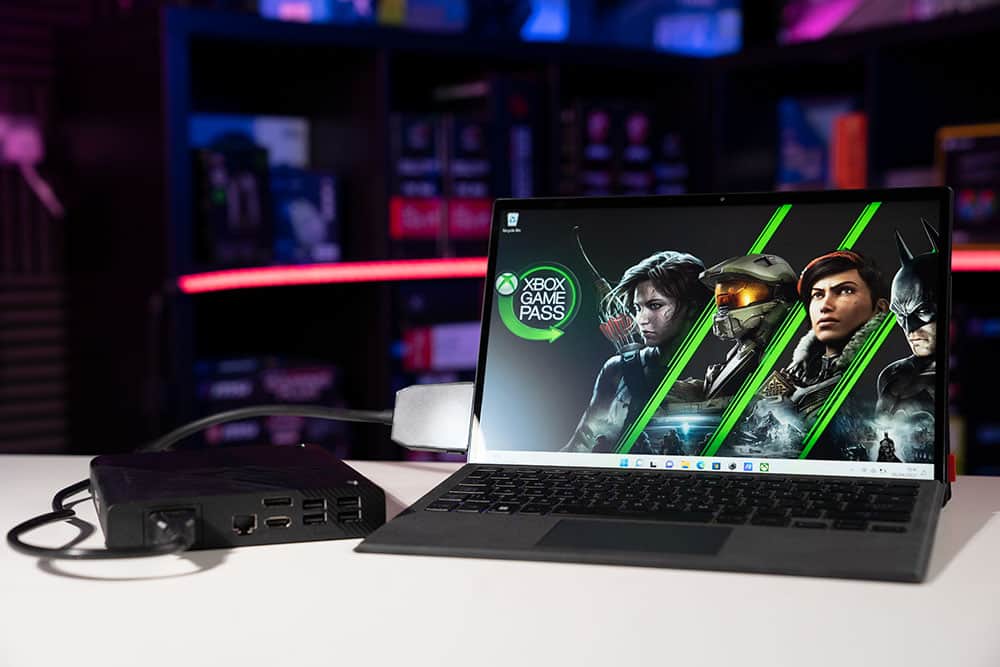 Last Updated:
The ASUS ROG Flow Z13 gaming tablet is a unique bit of kit from one of the most innovative gaming laptop brands in the game. This touchscreen portable tablet, complete with detachable keyboard which evokes the design of the Microsoft Surface Pro, can be bought as a standalone device or combined with an external graphics card to give it a huge boost in gaming performance. This eGPU is known as the ASUS ROG XG Mobile, which comes with its own power cable, internal cooling, and I/O ports, and we've got the RTX 3080 version of the device here to put through its paces. Neither of these products come cheap though, and combined they retail for an MSRP that's up there with the most highly-priced laptops (around $3400 for both). Read on to see if they're worth your hard-earned cash.
ASUS ROG Flow Z13 (2022)
CPU
Intel Core i5-12500H/ i7-12700H/ i9-12900H
Graphics
Intel Xe (iGPU) / RTX 3050 / RTX 3050 Ti
Max Refresh Rate
120Hz / 60Hz
Specifications & upgradability
As is typical for a tablet, compared to a laptop, the Flow Z13 cannot be opened up and upgradability options past the point of purchase are extremely limited. The one exception to this is the covered SSD slot on the rear, which can be exposed by removing the one Philips head screw securing it. This is the smaller sized M.2 2230 PCIe 4.0 x4 slot (as opposed to the larger 2280 size you commonly see in laptops) so will only accept appropriately sized SSDs.
In terms of the CPU and GPU there are three possible loadouts: the most powerful Intel Core i9-12900H paired with Nvidia RTX 3050 Ti (which we have here), the i7-12700H with RTX 3050, or the i5-12500H with Intel Iris Xe integrated graphics (iGPU). The processor options all have liquid metal cooling, which is further assisted by a vapor chamber. 
Display options on the 16:10 screen are a 3840 x 2400 60Hz option, not advisable for gamers, or the 1920 x 1200 version we were given. Memory size for the Z13 caps out at 16GB of LPDDR5-5200MHz RAM (nice and fast), though we've seen the AMD-powered X13 come with 32GB of RAM: hopefully something that will become available for the Z13 as well in time. The maximum SSD size you can buy with the laptop is 1TB.
Unsurprisingly, this being a tablet device, you don't get an Ethernet port, so are entirely reliant on the Wi-Fi 6E AX211 160MHz connection for gaming, unless you use a USB Ethernet adapter. However, the ROG XG Mobile GPU does have one, if you decide to pick one of these up. More on this in the Ports, sockets, and other features section below.
Finally, you of course get touchscreen functionality, and you can order the Z13 with an ASUS Pen SA201H stylus, though it doesn't come with this as standard.
Intel Core i5-12500H/ i7-12700H/ i9-12900H
Intel Xe (iGPU) / RTX 3050 / RTX 3050 Ti
1920 x 1200 / 3840 x 2400
1080p rear-facing & 720p front-facing
1x USB-A 3.2 (Gen 2), 3.5mm audio combo jack, 1x Thunderbolt 4/USB-C, 1x PCIe 3.0 x8 & USB-C 3.2 combo port
Pros
combined with the ROG XG Mobile, as powerful as any gaming laptop

superb brightness & contrast

great color accuracy and panel uniformity

optional ROG XG Mobile comes with lots of ports

good quality detachable keyboard & trackpad

great build quality
Cons
poor gaming performance with the Flow Z13 on its own

very expensive

poor response times

insufficient ports on the Flow Z13

poor cameras/webcam and mic

lacklustre battery life

color gamut would be wider

No G-Sync
Software
The Flow Z13 comes with the same ROG version of the ASUS Armoury Crate software that you get with their other devices. As ever it gives a lot of functionality to change options like fan speed and keyboard macros, with different profiles for each game you play, and some limited RGB customization for the keyboard backlighting and the small window on the rear of the device. You don't get the same CPU/GPU voltage options you do on proper gaming laptops like the Zephyrus G14, but Base Clock Offset, Memory Clock Offset, Thermal Target, and GPU Power Saver options are customizable for the GPU: more than you'll find in your typical tablet/Surface.
Most importantly you get access to a MUX Switch from within the internal software, which will give you a substantial performance boost in-game if you're using the RTX 3050 Ti or RTX 3050 option (though will obviously make no difference for the Intel Xe iGPU model). Note though, that when connecting the RTX 3080 XG Mobile external graphics, Optimus must be turned on, so you don't get the same performance advantage. To bypass this performance bottleneck, you can still connect the device to an external monitor, if you wish.
As ever our biggest issue with Armoury Crate is just that it's so poorly organized and full of unnecessarily distracting visuals and bloat, such as the 'News' menu, which is essentially just ASUS marketing. ASUS should take a leaf out of XMG's book in this regard.
Design aesthetics & RGB
You only get one color option for the AUS ROG Flow Z13, which is black. The detachable keyboard and trackpad section of the chassis has a matte look and is made of a kind of faux-suede material, with the keys and trackpad themselves having a more glossy finish. The rest of the metallic chassis has the vaguely sci-fi engraved styling common to many ASUS ROG products. 'Gamer' features litter the back of the display, including an 06 design made out of diagonal slits, 'For Those Who Dare' written at the top, the red detail on the tab which opens the stand, and a transparent RGB-lit window that shows off some of the internal components.
RGB is limited to both this small window and the keyboard backlighting, which is fairly standard and comes with three brightness levels. 
Size, build quality & ergonomics
The dimensions for the ASUS ROG FLOW Z13 are as follows:
Height: 1.58cm / 0.62″, Width: 29.9cm / 11.77″, Depth: 22.2cm / 0.87″
The ASUS ROG XG Mobile RTX 3080 measures:
Height: 3.26cm / 1.28″, Width: 16.5cm / 6.50″, Depth: 21.7cm / 8.54″
The weight of all the components is as follows:
ASUS ROG Flow Z13 tablet: 1.2kg / 2.6lb
Tablet & keyboard: 1.5kg / 3.4lb
Tablet, keyboard, power brick & cable: 2kg / 4.3lb
ASUS ROG XG Mobile RTX 3080 (with power cable):  1.2kg / 2.65lb
Combined weight: 3.2kg / 6.95lb
In terms of portability, we can't fault the FLOW Z13. It's a bit heavier than your average tablet, but considering the hardware that's in it this isn't surprising and is quite impressive. The power adapter is also pleasingly compact. The ROG XG Mobile RTX 3080 has some chunk to it, but isn't particularly heavy. Besides the thickness, it's smaller than the Flow Z13 in its other dimensions, so you can still comfortably put one next to the other in a small rucksack or laptop bag.
The build quality of ASUS ROG Flow Z13 is top-notch, as is typical of most ASUS laptops. The main metal body of the tablet feels solid as you'd expect, but the usual areas of concern, such as the hinge-out stand on the back, also feel sturdy and durable. 
Detachable keyboards on tablets can be quite irritating at times, coming detached too easily, but ASUS has done well here: the magnetic connection is solid and attaches/detaches with a satisfying click and the keyboard section feels firm when you use it, with no give when typing. There is a hinge feature that lets you either raise the keyboard slightly upwards, angled toward the screen (the standard configuration), or be pushed down to lie fully flat, revealing the tasteful ROG FLOW logo on the bottom bezel. However, this latter position is a bit annoying, as the keyboard section bounces up and down when you type on it, so is probably to be avoided.
Keyboard & trackpad
For what it is, the detachable ASUS Flow Z13 keyboard is surprisingly good. Obviously, this membrane chiclet keyboard won't compete with a mechanical or optomechanical keyboard for gaming on, but the size of the keys and the responsiveness are both decent for such a small machine. The keys have a 1.7mm travel distance so don't feel too shallow and incorporate N-key rollover, so are much better for gaming on than your average tablet's keyboard will be. As stated above, the detachable keyboard segment is fairly sturdy when put in the slightly angled position, and doesn't bow much when you type on it.
The all-in-one glass trackpad is decently sized relative to the rest of the machine. It feels solid and responsive to use, and we can't really say anything negative about it.
Webcam & inbuilt microphone
The AUS ROG Flow Z13 comes with two cameras: a 1080p one on the back which can take photos as well as video, and a second 720p one facing the user above the screen. The 1080p camera actually has the worst video quality of the two (actually quite poor), though apparently (we didn't test this) is capable of producing half-decent still photographs. The 720p webcam is fairly middle of the road in terms of image quality, and the microphone is slightly worse than average. Neither camera has InfraRed technology, and therefore don't support Windows Hello. So, all-in-all, a bit disappointing. 
Ports, sockets, and other features
ASUS ROG Flow Z13 ports
If you're thinking of buying the Flow Z13 on its own, and aren't enthused by the idea of using a USB hub, prepare to be disappointed. For your money you get a single USB-A port, one USB-C / Thunderbolt 4 port for charging the device, and another within the socket for the XG Mobile (a unique combo PCIe 3.0 x8 plus USB-C 3.2 port), a 3.5mm audio jack: and that's it. This proved quite irritating when trying to attach both a mouse and an external SSD when benchmarking, so we imagine many users will feel the same. Also, as is to be expected from a tablet, you don't get an ethernet port, which will put off a lot of online gamers.
RTX 3080 ROG XG Mobile ports
If you do decide to go with the ROG XG Mobile, however, you get a plethora of ports: 4x USB-A, a micro SD card reader, a gigabit Ethernet port, and HDMI 2.0a and DisplayPort sockets, which make connecting to two external monitors nice and easy.
Screen
The ASUS ROG Flow Z13 version we received comes with a 1920 x 1200 display (essentially the 16:10 equivalent of 1080p). The 16:10 gives a bit of extra headroom when looking at documents, browsing the web, or doing any kind of creative workflow, and it's a good design choice for a smaller sized device like this where screen space is at a premium. 
Although a 3840 x 2400 (the 16:10 version of 4K) display option is available, this caps out at a maximum refresh rate of 60Hz, so we wouldn't really recommend it for a gaming machine. The 1200p version has a 120Hz maximum refresh rate, which is decent for a gaming device, if not quite as high as you'd like for competitive online shooters like CS:GO and the like. 
There is No G-Sync available, unfortunately, but Adaptive Sync is enabled with Optimus switched on. In terms of response time, you only get 21ms average grey-to-grey, which by the standards of most gaming laptops is pretty poor, but for a 13" display it's actually the best out there at the time of writing. As has happened with the 14" gaming laptop market though, we expect things to improve dramatically in this area over the next year or so.
Touchscreen functionality is one area where this tablet differs from the gaming laptop competition, and when we used it it felt accurate and responsive: no complaints.
ASUS ROG Flow Z13 color gamut
ASUS claimed that the G14 color gamut of this display covers 100% of sRGB space, but in our tests it fell short of this target.
We recorded 96.8% sRGB coverage, 73.1% DCI-P3, and 71.1% Adobe RGB, which unfortunately means it's not really suitable for color-accurate work in the sRGB space: unfortunate given the strength of the other results below.
ASUS ROG Flow Z13 color accuracy out of the box
Prior to calibrating the display, the color accuracy of the G14 out of the box showed an average delta of 0.99, which is very impressive indeed, and well below the 2.5 threshold that marks a respectable level of variance. White point was superb at 6616K, very close to the ideal 6500K result, and gamma was equally good at 2.22 (very close to the 2.2 ideal). Black depth was good at 0.0882 cd/m² (for an IPS panel at least), and the contrast ratio of 1349.6:1 was impressive. In short: great results across the board, particularly in terms of the average delta.
ASUS ROG Flow Z13 color accuracy following calibration
Although the above results indicated to us that some factory calibration had already likely occurred on this device, we decided to do a quick calibration ourselves to see if it would make much of a difference.
Post-calibration, gamma remained unchanged at 2.22. There was a slight improvement in the average delta, which reduced to 0.95. Contrast barely increased to 1363.9:1, and it was the same story of very slight improvements for the black point (0.0872cd/m²) and white point (6610K). In short: not really worth bothering with.
ASUS ROG Flow Z13 panel uniformity
We do a panel uniformity test on all laptops we review after their calibration, which tests for both luminance and color accuracy. We start on the centremost point as a reference and then test all the other sections of the screen (25 in total) to see how they compare.
Generally, any average color variation under 1.00 is good and shows up as green in the image below, though the average consumer won't be able to tell much difference below 3.00. Visual editors who work with color however may have a keener eye.
The results we got on the ASUS ROG Flow Z13 were very good, with only a bit of variation (a delta of 2.54) in the one top left segment when it was at maximum brightness, though at other brightness settings it was below 1.00. A pretty impressive panel uniformity indeed.
Brightness
We finished off our color accuracy testing by running a luminance test. On the unit we tested, we got a peak brightness of 555.05 cd/m² and a minimum of 62.48 cd/m² which hits the 500 nits of maximum brightness claimed by ASUS and is a very impressive range of brightness. When using the laptop indoors during the daytime we'd recommend matching the brightness to 120 cd/m² which equates to a brightness setting of 11% under the brightness controls for this laptop.
Audio
For a tablet, the speakers on the ASUS ROG Flow Z13 are pretty respectable with adequate volume, but the quality is fairly mediocre by gaming laptop standards. The fidelity of the sound dips when the volume is set to maximum, and there's not really much bass replication at all. ASUS generally hit well above average when it comes to speakers in their gaming laptop line, the ASUS ROG Zephyrus G14 being a good example, but the restrictions imposed by the slim form factor of a tablet obviously make good quality speakers a more difficult ask.
Battery life
When conducting our battery test we made sure the internal settings within Armoury Crate were set as favourably as possible. Panel Power Saver mode was switched on (which turns the refresh rate of the display to 60Hz when the device is unplugged), the MUX Switch was used to disable MSHybrid Mode (i.e. Optimus) and Eco mode was turned on to fully disable the dedicated/discrete GPU (dGPU).
With all these settings enabled and the performance mode set to Silent for maximum power efficiency, we conducted our usual battery test: two hours of YouTube followed by the remaining time idling with Google Chrome open, at 50% brightness and with background applications switched off. 
The results were somewhat disappointing, particularly as this is supposed to have the benefits of a portable tablet machine: six hours is the best you can hope for, even in this very undemanding scenario. It will be interesting to see if ASUS release an AMD 6000 series CPU version of the Z13 down the line, as this would almost certainly have substantially improved battery life over the Intel version.
Performance, noise & temperature
Noise
ASUS ROG Flow Z13
Set to Silent mode within the Armoury Crate software, the tablet was exactly that: perfect if you're using the machine to type documents or web browse in an office or on the move.
Performance mode made the fans more audible when gaming using the inbuilt hardware, though it was still substantially quieter than the majority of gaming laptops.
Switching the fan speed profile to maximum in Manual mode, along with the power to the core components, the fans got substantially louder as you'd expect, though still considerably below that of a gaming laptop.
RTX 3080 ROG XG Mobile
In both Silent and Performance mode, the ROG XG Mobile RTX 3080 was about as loud as a conventional gaming laptop, but with the fans and voltage turned up to the max in Manual mode, as we did in our testing, the external GPU gets extremely loud. Unless they have noise-canceling tech, you'll likely be able to hear it even through your headphones when gaming.
External temperature
Given the design of the tablet houses all of its internal, heat-generating components behind the display, the detachable keyboard section remains cool throughout, even in the most demanding of scenarios. Exhaust vents are located on the top of the display, so you're unlikely to get any problems.
Internal temperature
The temperature results above were all recorded during our tests for each game, covering all resolutions and graphical settings. For each test, we'd set the voltage and memory settings, as well as fan speed to the maximum using our own custom profile within Manual mode in the Armoury Crate software.
We only tested the internal temperature within the tablet itself and not the RTX 3080 ROG XG Mobile external GPU, so the GPU temps in the second graph represent the temperature on the RTX 3050 Ti dGPU when it was not in use, and the external GPU was running. As expected, although CPU temps remain similar, the internal temperatures on the dGPU drop significantly once the eGPU is enabled.
ASUS ROG Flow Z13 benchmarks with RTX 3050 Ti
We tested the ASUS ROG Flow Z13 at its native 1200p resolution across a range of different titles on different graphical presets. When benchmarking the Flow Z13 using its RTX 3050 Ti dGPU we used the onboard MUX Switch to turn off Optimus for all our testing, to ensure the best performance. All fan, voltage, and memory usage settings within the Armoury Crate software were set to the max using a Manual fan speed profile.
ASUS ROG Flow Z13 benchmarks with ROG XG Mobile RTX 3080
The Flow Z13 with ROG XG Mobile RTX 3080 external GPU was again tested using the most performance-favorable settings possible, though as stated, connecting the eGPU prevents the use of the MUX Switch to disable Optimus.
ASUS ROG Flow Z13 gaming performance: the takeaway
On its own, the ASUS ROG Flow Z13 with RTX 3050 Ti and Intel Core i9-12900H doesn't particularly impress as far as gaming goes. The size constraints of the tablet chassis mean the RTX 3050 Ti is relatively underpowered, even compared to other RTX 3050 Tis, so you'll struggle to get playable performance on the latest, most demanding titles on anything above the lowest settings. Even then, don't expect to get much above 60FPS in some titles. As you can tell from its absence above, we were not able to turn on Ray-Tracing in Doom Eternal using the onboard RTX 3050 Ti. Additionally, the highest settings in Doom Eternal even without Ray-Tracing, were not playable using the dGPU as the VRAM of the machine was not sufficient. Older, less demanding games such as CS:GO will run very nicely though, particularly ones which utilize CPU power.
Combine the Flow Z13 with the ROG XG Mobile RTX 3080 however, and the performance in-game is on par with the best gaming laptops on the market; in FPS terms it actually beats the 2021 XMG Neo 15 with RTX 3080 that we rated as one of our best gaming laptops of last year, demolishing demanding titles even on the highest settings with Ray-Tracing turned on. This is also without the benefit of being able to disable Optimus with the eGPU attached, so expect a substantial performance boost if you bypassed this using an external monitor. When you consider that the XG Mobile RTX 3080 is closer to a full-sized desktop graphics card, rather than the scaled-down versions designed for laptops, this isn't really surprising.
Final Word
Considering all the above, we definitely wouldn't recommend buying the ASUS ROG Flow Z13 on its own. The RTX 3050 Ti version just isn't powerful enough in-game to justify its exorbitant price, and there are superior, cheaper non-gaming tablets out there. You'd be better off buying a 14-inch gaming laptop like the ASUS ROG Zephyrus G14 for the same amount of money, far superior gaming performance, battery life, a better I/O, and a faster, more responsive display, and just put up with the slightly reduced portability.
Given the good color accuracy and panel uniformity (at least in the model we tested), it's a shame that the gamut only extends to 96.8% sRGB for the 1080p version as the Z13 could have added another string to its bow as a machine suitable for creatives looking for a machine suitable for color-accurate photography / graphic design. As it is, the touchscreen functionality and stylus pen support are both decent, but given the poor battery life of the laptop, even when Optimus is enabled, its utility as a mobile creative platform is inferior to other tablets.
When looking at the ASUS ROG Flow Z13 and RTX 3080 ROG XG Mobile combined package, it's impressive in many ways, though it's hard to recommend it except for very specific circumstances. The combination of the two performs as well as the very best gaming laptops on the market in FPS terms, better than almost every other RTX 3080 laptop, but is hugely expensive. 
We would like to see a cheaper Flow Z13 option available that combines Intel Xe integrated graphics with the most powerful i9-12900H CPU option as we tested here, given the RTX 3050 Ti is largely a waste of money, but according to the ASUS website the Intel Xe only comes with the i5-12500H, which would impact your performance when pairing it with the RTX 3080 ROG XG Mobile eGPU.
The one situation we could see this tablet and ROG XG Mobile combination working well in, is if you combine the two with an external monitor at home when gaming, but take the machine with you on the move for general use/workplace tasks. This could not only give you a higher refresh rate and response times, but most importantly have the benefit of bypassing Optimus, giving you an additional FPS performance boost that would put it alongside some of the cheaper RTX 3080 desktops out there, whilst retaining its utility as a portable device. The problem is, you could just as easily buy a separate desktop and tablet for the same price and equivalent, if not superior, performance.