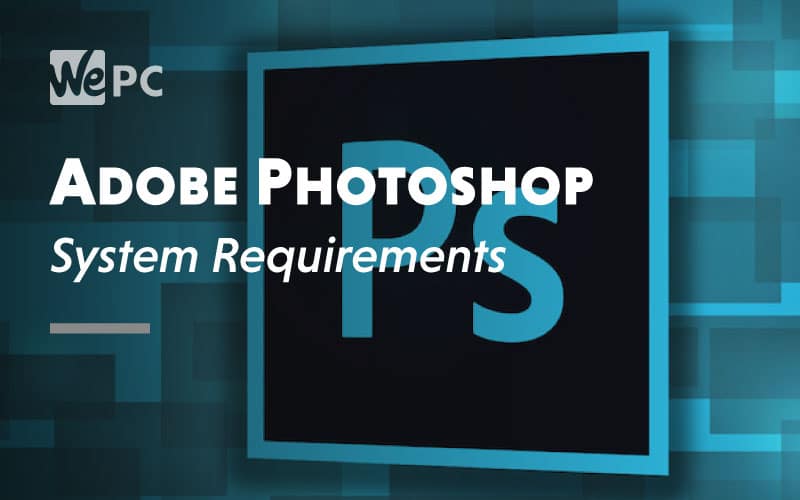 Updated: Oct 12, 2022 3:34 pm
Can I Run Adobe Photoshop?
To determine whether your current PC is up to the demands of Adobe Photoshop, you first need to figure out what it's housing, notably when it comes to the CPU, GPU, and RAM. If you're uncertain how to go about doing this, fret not as you can refer to our guide here, which will walk you through the precise steps.
READ MORE: Can your PC run A Plague Tale Requiem?
With your specifications in hand, you need only compare them to the minimum and recommended specifications for Adobe Photoshop, which we've listed below for convenience. We would suggest aiming for the recommended specifications for the best possible experience. You may want to weigh up the merits of a few choice upgrades if your PC falls short.
BUY NOW: Xbox Elite Controller 2
Checking system requirement isn't exactly a barrel of laughs, so with that in mind, we are currently finetuning a bespoke utility to make the process a lot less of a drag. It will scan your PC and list the specifications in an easily digestible form, side-stepping that part entirely. It's still under wraps, but expect an update on our progress soon.
Adobe Photoshop Details
Release Date: February 19th, 1990 (Windows PC, Mac)
Most Recent Stable Release Date:

November 4th, 2019

System Requirements:

Medium

Genre:

Photo and graphics editor

Developer:

Adobe Inc.

Publisher:

Adobe Inc.
Adobe Photoshop is a photo and graphics editing application designed by Adobe Inc. 
Famous among professional designers and photographers across the world, it features a range of editing tools to create, improve, alter, and embellish visual designs and photos. These include the pen tool, clone stamp tool, shape tools, cropping, slicing, moving, and lasso, among numerous others. 
Photoshop is almost a household name and is often used as a verb to describe the process of editing images among the general population.
The latest 2020 version includes new tools for complex editing, revamped tool interfaces, and better workflow changes.
Adobe Photoshop Minimum System Requirements
| | |
| --- | --- |
| CPU | Intel or AMD processor with 64-bit support, 2 GHz or faster processor |
| GPU | NVIDIA GeForce GTX 1050 or equivalent |
| HDD Disk Space | 3.1 GB of storage space |
| RAM | 2 GB |
| OS | 64-bit Windows 7 SP1 or above |
| Screen Resolution | 1280 x 800 |
| Network | Broadband Internet Connection |
Adobe Photoshop Minimum System Requirements
Adobe Photoshop Recommended System Requirements
| | |
| --- | --- |
| CPU | Intel or AMD processor with 64-bit support, 2 GHz or faster processor |
| GPU | NVIDIA GeForce GTX 1660 / NVIDIA Quadro T1000 |
| HDD Disk Space | 10 GB of storage space |
| RAM | 8 GB |
| OS | 64-bit Windows 10, October 2018 update, version 1809 or later |
| Screen Resolution | 720p |
| Network | Broadband Internet Connection |
Adobe Photoshop Recommended System Requirements
Optimal Hardware Suggestions
The system requirements for Adobe Photoshop are surprisingly reasonable in comparison to other Adobe professional-grade applications and distinctly resemble those of a mid-range gaming PC.
The minimum requirements are what's needed to get Photoshop up and running, but don't expect it to run seamlessly during particularly in-depth editing sessions. The 2 GB demand is a little low in our estimation, and we suggest aiming for 4GB at the least to avoid loading slow down. You'll also be limited to smaller resolutions.
With the recommended requirements, your PC is geared towards handling anything Photoshop can throw its way. In keeping with this, the GPU requirements jump to at least a GeForce GTX 1660 or a model from the Quadro range.
What PC Do We Recommend?
For Adobe Photoshop, we recommend our $800 build as a good foundation. It surpasses the recommended settings with some room to spare, putting you in good stead for any future upgrades to the software. 
The PC features an AMD Ryzen 5 3600X, GeForce GTX 1660 GPU, 16 GB of 3200 MHz DDR4 RAM, and a 480 GB SSD. The better CPU will ensure any rendering work will complete a lot faster. You may also want to upgrade to a more powerful GPU such as a model from the RTX or Quadro family if you plan to tackle extremely complex graphics and photo editing.
FAQs
Can I run Photoshop on 4GB RAM?
While 8GB is the norm, yes, you can technically run Adobe Photoshop with 4GB of RAM. Photoshop imparts more of a CPU-heavy workload than a RAM-heavy workload, so as long as you've got a quality processor at the heart of your system, 4GB should be fine. You will, however, still have to make a few key compromises.
With limited RAM, certain aspects of functionality will be restricted. For example, you might not be able to have multiple projects open at the same time. The auto-saving feature may also be disabled, and you probably won't be able to access such a detailed history of your projects.
If you wanted to optimize your 4GB Photoshop experience, it might be worth using an older variant of the software. The cc 15 edition is known to be pretty workable with low RAM, but your best bet is probably the previous version, known as cs6.
You can also optimize performance by going into Photoshop's settings and manually allocating more than the default 70% RAM usage.
Is i5 good for Photoshop?
Photoshop's favorite things are cores, threads, and clock speeds, and certain members of the i5 tribe have all those things in spades, so yes, i5 processors are fantastic for Adobe Photoshop.
To optimize the Photoshop software, you'll need a CPU with either 8 cores, or at least 8 threads, which means any of the hyperthreaded i5 quad-core CPUs are perfectly capable of running Photoshop.
Piling on even more cores and threads may help to smooth out your general computing, but Photoshop really only cares about those 8 cores or threads, which means the hyperthreaded hexa-core i5 processors are overkill.
Adobe recommends a minimum base clock speed of 2GHz, but you'll get much better performance with a processor that has a base clock speed of 3GHz or above. Luckily for us, plenty of i5 CPUs do. Others fall just shy of that with 2.9GHz base rates, but that's close enough for some super smooth photo editing.
Can Photoshop run without a graphics card?
Despite being heavily visual in nature, Adobe's Photoshop software is surprisingly not all that reliant on the proficiency of your computer's graphics utilities.
Photoshop can run at near 100% capacity even if you don't have a discrete graphics card. Granted, there are a few special features that lean on your GPU, but it's rare that they'll ever be called into play during the average editing session.
As long as your computer isn't too old, the integrated graphics facilities should be more than enough to support a Photoshop session. So, you can save your money and fork out for something that will definitely improve your Photoshop experience, something like a large, high-resolution monitor.
The only reason you'd need to invest in a discrete GPU is if you wanted to start gaming or perhaps if you're planning on doing some 3D animation work. The rendering process of these kinds of programs relies heavily on the power of your GPU.